**EDIT**

You guys are amazing. Thank you so much for caring about a stranger, and for helping to make this happen. Pics will be coming soon!



-------------------------------------------------



I don't normally do this. If it were for me, I wouldn't. But because my son needs it, I'm asking for your help to get him to camp this year.

What's the big deal about camp, you ask? Well, my son is 13 years old and has type 1 diabetes. He was diagnosed at age 10, and suddenly felt overwhelmed, alone. He is one of three diabetic children at his school, and he spends a good portion of every day managing his diabetes. He wears an insulin pump 24 hours a day, we do site change every three days, and he checks his blood sugar anywhere from 3-10 times a day, sometimes more if it's a bad day. He doesn't get to just eat, just live... he's always having to manage his diabetes.

But for three weeks every year, he gets to attend Camp Sweeney. This camp isn't just a summer camp... it's 300 kids with diabetes, all able to be just like everyone else for that three weeks. They aren't stared at for checking their blood sugar or having an injection. They don't feel out of place, or left out. They get to be a normal kid for three weeks, swimming, hiking, doing all sorts of activities. They also learn about how to manage their diabetes, and learn to not use it as an excuse for why they can't do something.

When we told our son about the possible cures coming up, he told us that given the choice, he'd wait until after he was 18 (and no longer able to go to camp) to get the cure, because camp means that much to him. It's a magical place, and I cry every year when I see what a wonderful experience it is for him.

The problem is that it's expensive. The fees for the camp itself are covered by scholarship, but we live very far from camp. (It's north of Dallas, and we live in south Louisiana.) Getting him there and back, and supplies for camp, costs us about $1500 all total. But this year, I'm disabled and my husband is severely underemployed. Add to that my 2 surgeries lately, and we just don't have the money to get him there.

This is where you come in. I've set up a paypal donation button, and I would be eternally grateful if you would give just a little to help get him to camp. In return, I'll post pics of the kid at camp, and possibly even have him write you all thank you notes. I hate having to beg for this, but for my son? I'd do anything.

Thank you so much.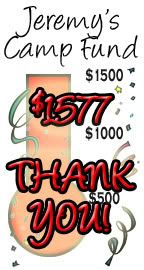 EDIT: I can't say thank you enough. Seriously... all of you I know, you know how hard this is for me, and what it means. For those of you who don't know me... thank you. I've been weepy all day. I'm absolutely floored by the response.